Dr. Britton attended Baldwin-Wallace College in Berea, OH for undergraduate school and the Ohio State University College of Dentistry for his DDS degree. He graduated in June,1977. After graduation he worked in a group practice in Brooklyn, OH for 2 years and then began a 9 year partnership with a school mate in Middleburg Hts., OH. For 5 years he practiced in Parma Hts. and Parma, OH before settling in Strongsville 18 years ago.



He has taken extensive post graduate courses in orthodontics and TMJ treatment spanning the last 20 years so he is very confident that his orthodontic treatment is up to date and very thorough.

The doctor and his wife Gina have no children, however Gina is an animal rescuer and foster person and at the present time they have 6 dogs, 6 cats, 2 parakeets and 2 white cockatoos. As you can imagine the house is crazy, crowded, loud, but filled with love for these now wanted and rescued animals.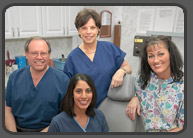 I am very proud of our team of dental professionals. They are very dedicated, knowledgeable and experienced, but most of all they genuinely care about our patients and their families.
Our staff consists of Nancy Fallon, a full time hygienist who has been with Dr. Gene for over 20 years. Nancy is married with 5 children (living in 3 different states) along with 5 grand children, who keep her extremely busy. Her husband is recently retired from the city of Cleveland where he was employed for approx. 35 years. Kim Kreeger is our full time dental assistant and doubles as the front desk person. She is married and has 1 child in the fifth grade. Kim is a runner and she recently completed both the Cleveland and Virginia Beach marathons this past summer. She has been with Dr. Gene for 5 years.Her goal is the Boston marathon next year. Kaukab Kohlmann is our part time hygienist and our youngest staff member. She is married with 2 children, the youngest was born just a few months ago. Kaukab has been here for 5 years as well.
Our staff is our greatest asset. We would not be in business without them. They are dedicated to making each and every contact with our office a pleasant experience for you, your family and friends.